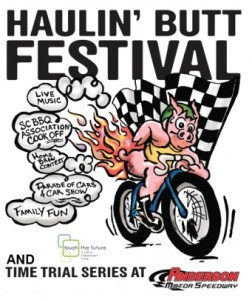 Sponsorship opportunities for the Spring 2015 Haulin' Butt Festival available today!!!  Enjoy the benefits of additional promotion time and help Touch the Future serve the community.  Thank you.
Huge thanks to Anderson Motor Speedway, AnMed Health Rehabilitation Hospital, Visit Anderson, Orr Cycling, West Small Business, Anderson County and Go Green Events for their support of the 2014 Time Trial Series & Haulin Butt Festival!!!
See you next Spring!!!!
Sponsorship Opportunities
(Please click on this link for sponsorship information)

---
Series & Festival Title Sponsor                          $7,500
(One Available)
Series & Festival Champion                                 $5,000
Series & Festival Leader                                         $3,000
---
Time Trial Series Sponsorship
Trial Presented By                                                    $2,500
(One Available per Event)
Trial Gold Sponsor                                                   $750
Trial Silver Sponsor                                                 $500
Trial Bronze Sponsor                                               $250   
Share the Road Trial Sponsor                             $100
Series Supporter                                                         Under $100  
---
Barbeque Festival Sponsorship
Festival BBQ Cook Off Presented By              $2,500
(One Available per Event)
Festival Nothing Butt Presented By              $2,500
(One Available per Event)
Home Brew Contest Presented By                  $2,500
Festival Gold Sponsor                                              $750
Festival Silver Sponsor                                            $500                                   
Festival Bronze Sponsor                                        $250                   
Smokin' Good Festival Sponsor                      $100                                   
Festival Supporter                                                    Under $100
---
Touch the Future, Inc.
1655 E Greenville Street
Medicus Bldg 2
Anderson, SC 29621
(864) 367-0831
admin@touchthefuture.us
www.touchthefuture.us