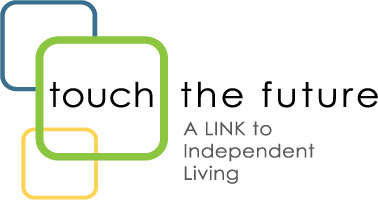 ---
Haulin' Butt Time Trial Series & Festival proceeds will support Touch the Future Programs.  In addition, a portion will go towards "Complete the Streets" efforts to provide safe cycling opportunities and events in the Upstate.
Show your support and click here to donate today!!!
---
About Us
Touch the Future, Inc. (TTF) is a 501(c) 3 nonprofit organization and member of the Global Alliance Partners providing individuals who are disabled, seniors, qualified Veterans or from disadvantaged communities with Computer, Durable Medical Equipment, and Assistive Technology services and devices.  TTF supports other nonprofit organizations and educational programs.  In addition we offer comprehensive assessment, consulting and training services including but not limited to ADA and accessibility consulting, Life Planning, and continuing education opportunities.  TTF is one of two Paralymic Sports Clubs in South Carolina. Touch the Future is home of A LINK, BlueAssist®, ReBoot™, Regained Mobility, and the PAW Center's specialized programs.  We are A LINK to independent living and Touch the Future of lives each day. 
Vision:
Touch the Future's Vision is a technologically connected world that is healthy, accessible and inclusive providing equal opportunities and maximum independence for all.
Mission:
Touch the Future's Mission is to create accessible, inclusive and environmentally sustainable communities that increase opportunities for independence, health and improved quality of life for individuals who are disabled, seniors, qualified Veterans, or from disadvantaged communities. We are committed to the use of technology and our programs and services to assist individuals to successfully meet life goals. We strive to ensure that technology is accessible and affordable to all.